About Us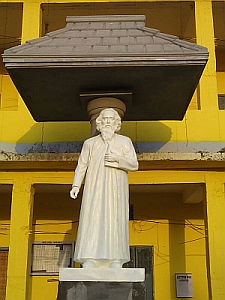 Kabiguru Rabindranath College of Education was established in 2012 to fulfill the needs of teacher education in Cooch Behar district. The institution is located in a very attractive natural site of Rural area of Sitalkuchi Block at Po-Gosair Hat Bandar, Dist-Cooch Behar , West Bengal. The Institute has been recognized by NCTE and affiliated to University of North Bengal.
This Institution has a vast, beautiful and pollution free campus which sprawls over 0.89 acres. The land having big playground , botanical garden, flower garden, artificial water reservoir, Auditorium Canteen etc. The premises consist of an imposing building with special class room, office room, principal room, faculty room, multipurpose hall, psychology laboratory, bio-science laboratory, physical science laboratory , geography laboratory, Educational Technology laboratory , music room, art and craft resource centre , physical and health resource centre, store room, indoor games , library with reading room, separate common rooms for boys & girls. Sufficient latrine and urinal for boys, girls & staffs.
Here teaching is imparted on knowledge based, skill based on contents and methodology practical works on gardening and practices teaching . Final teaching based on the syllabus and course for B.Ed. with special care, systematic away discipline under the guidance of expert teachers.
Mission of the founder body is to empower each and every students to recognized and optimize his/her full potential by the quality of education and excellent knowledge management through specific , measurable, relevant, time bound, goals and continuous improvement.
Our Mission
To produce teachers with knowledge and character, ideals and aspirations, attitudes and motivations.
To prepare teachers of high caliber for all levels of education.
To develop an instigative thirst in the student teacher to achieve excellence.
To enable them to become good innovators.
To train teachers as leaders of the emerging society with sense of public responsibility.
Our Vision
Preparation of Resourceful and Skilled teacher.
Providing knowledge and understanding of pedagogy for assisting…… the student teacher for effective transaction of teaching learning.
Acquainting the Student teacher with modern means of educational technology and communication system.